Eine gerechtere Gesellschaft – daran möchte Yvonne mitwirken, das ist ihre Motivation für das Jurastudium. Sie ist dankbar und glücklich über diese Möglichkeit.
"I chose to study law because I was looking for an opportunity to help other people and societies, especially the vulnerable. To talk about advocacy and empowerment, that is, to make the case on behalf of those who cannot defend themselves – to defend the defenseless."
Yvonne ist eines unserer Patenkinder, das seit der Grundschulzeit an der Royal Beam School durchgehend unterstützt worden ist, finanziell und immer wieder persönlich vor Ort. Denn ihr Pate, der gleichzeitig ein sehr aktives Vereinsmitglied ist, reist in regelmäßigen Abständen nach Ghana. Von Anfang an hat Yvonne in der Schule gute Leistungen gezeigt und mit ihrer Zielstrebigkeit und ihrem Verantwortungsgefühl sehr beeindruckt. So fiel die Entscheidung nicht schwer, Yvonne über den Abschluss an der Royal Beam School hinaus zu unterstützen. Inzwischen besucht sie die Pentecost University in Accra. Auch hier kommt Michael für die Kosten auf.
Gute Schulen und Universitäten sind in Ghana immer in privater Trägerschaft. Im Vergleich zu europäischen Privatschulen und -universitäten sind die Kosten jedoch deutlich niedriger. Für das Jurastudium an der Pentecost University bedeutet das z.B. rund 95 EUR im Monat für Studiengebühren und Unterkunft auf dem Campus.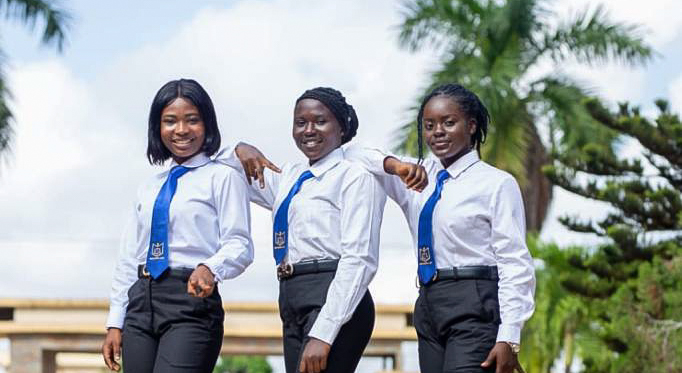 Wir freuen uns sehr, dass Yvonne (rechts im Bild) "ihren Weg" gehen kann und wir würden uns freuen, wenn auch andere Jugendliche die Möglichkeit hätten, an die Schulzeit eine solide Berufsausbildung anzuschließen. Die Kosten dafür müssen nicht notwendig über eine einzige Patenschaft gedeckt werden. Durchaus denkbar ist, dass sie von mehreren Pat*innen gemeinsam getragen werden. Wer daran interessiert ist, darf sich gerne bei uns melden.